On a warm, humid summer night in Oklahoma City (is there any other kind there?), Arizona State's fab five clinched the school's first-ever NCAA softball championship.
This leaves the Sun Devils seven titles behind those who shall not be named in Pima County, but give the program time. Seniors Kristen Miller, Katie Burkhart, Jackie Vasquez, Mindy Cowles and Rhiannon Baca – a group who went 4-17 in conference play as freshmen – have laid the groundwork for years to come.
I had the chance to watch the Devils two weeks ago in a super regional sweep against Northwestern and came away impressed by the steely determination and confidence they showed. Probably helps the confidence when you finish the season 66-5.
Yes … 66 wins, 5 losses.
Now, if we can get the Sun Devils' baseball team to come through this weekend against Fresno State and again in Omaha …
It's a good time to be a Devil.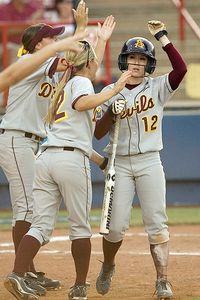 [tags]Arizona State softball, NCAA softball[/tags]